---
What Do The Japanese Symbols & Colors Represent?
---
At present, there are a total of 106 different issuing municipalities covering the 47 prefectures, territories and metropolises of Japan, each with their respective names displayed in Kanji. Tokyo, being the largest urban area in Japan, has a total of five: Adachi, Hachioji, Nerima, Shinagawa and Tama, as shown in the image below.
Vehicle Classification
While vehicles are categorized from 0-9, privately registered vehicles utilize numbers 3 and 5 only. Standard cars with a maximum capacity of ten persons will display 3xx, with small and kei cars displaying 5xx. In addition, cars utilising only two numbers for classification can still be seen today, e.g. 3x and 5x. These vehicles were registered prior to the 14th of May, 1999.
Hiragana Characters
The hiragana symbols to the left of the number plate specifically identify the type of use for each vehicle. Privately owned vehicles of small and standard cars use the following:
さ・す・せ・そ・た・ち・つ・て・と・な・に・ぬ・ね・の・は・ひ・ふ・ほ・ま・み・む・め・や・ゆ・ら・り・る
While kei cars use the following:
あ・い・う・え・か・き・く・け・こ・さ・す・せ・そ・た・ち・つ・て・と・な・に・ぬ・ね・の・は・ひ・ふ・ほ・ま・み・む・め・や・ゆ・ら・る・を
Color Options
The color of the plate also has significance.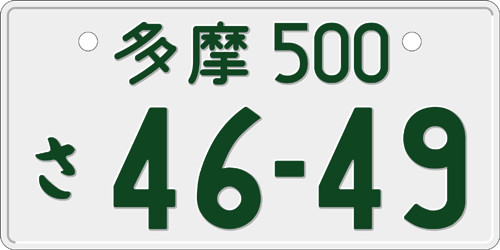 Passenger vehicle (above 660cc) This is the license plate for passenger vehicles with engines over and above the stated 660cc limit.
---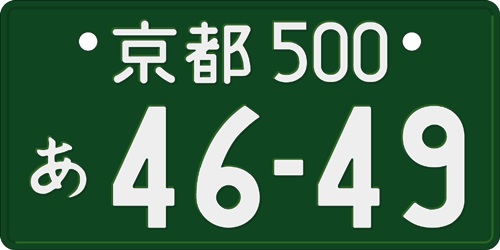 Commercial vehicle (above 660cc) Green plates come in two sizes. Medium (pictured here) and larger size for trucks. Real life examples: armored vans (medium-size plate) and goods-carrying trucks (large-size plate).
---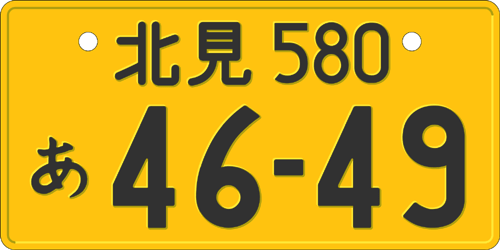 Kei Passenger vehicle (below 660cc) This yellow license plate denotes Japan's lightweight class of vehicle. The 660cc limit was introduced in 1990 and continues to the present. Yellow plates were also used for the 550cc kei-class period of 1976 to 1990.
---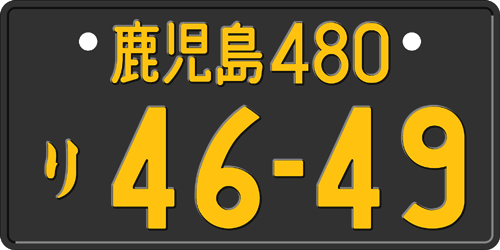 Commercial vehicle (below 660cc) Commercial vehicle (below 660cc) Real life example: small, parcel delivery van.
---
Temporary It is typical for car dealers and mechanics to use these red-striped plates for as yet unregistered cars. They are issued by local government offices. There was a time when these plates were being increasingly used to get (un-registerable) cars to car shows.
---
Rising Sun A CustomJapanesePlates.com original! If you are looking for authentic, this is not the plate for you. If you are looking to go all custom, then this is the background you want. The rising sun is currently used on flags for several Japan military branches.